Disponibilidad de cursos es limitada. Cada curso programado está disponible sólo para UNA institución. Para apartar un curso la institución debe haber pagado el 50% o el total del costo del curso mínimo con 3 semanas antes de la fecha de inicio del mismo. Reserve un curso para su institución ahora contactando a Carlos Huerta en el correo carlos@usmexfusion.org
Nov. 27 - Dec. 2, 2017
Leading and Engaging Faculty and Staff in the Internationalisation of Higher Education
Elspeth Jones
Today's university must reach across national boundaries and go beyond traditional approaches to the dissemination of knowledge and ideas. Globalisation, intensifying competition in international education, changing global student flows, institutional rankings and stakeholder demand are just some of the compelling drivers for international engagement. An integrated or comprehensive approach to internationalisation means that the university must develop the culture, attitudes and practices that enable international and cross-cultural perspectives to permeate all aspects of its work. This programme will consider what this means at an institutional level. It will offer a number of critical success factors and propose some indicators of successful achievement. A model for evaluating progress will be considered, along with some of the leadership and staff development issues that arise.
December 11 - 16, 2017
Diversity, Inclusion and Internationalisation of the Curriculum at Home
Elspeth Jones
Internationalisation of the curriculum and internationalisation at home are sometimes thought of as different concepts. This course will begin by discussing the relationships between the two and go on to explore how focusing on internationalisation can help develop a more inclusive teaching and learning approach for all students from diverse backgrounds, whether 'home' or 'international'. It will consider how academics can introduce alternative and/or global perspectives within the curriculum and tools for supporting them in this endeavour, as well as the kind of intercultural skills and attitudes which may be developed through a curriculum which adopts this approach.
Disponibilidad de cursos es limitada. Cada curso programado está disponible sólo para UNA institución. Máx. 20 participantes de la misma institución.
Duración de un curso: 6 días (lunes a sábado)
Máximo 20 participantes de la misma institución
En línea a través de la plataforma USMEXFUSION Academy
Curso asincrónico. Los participantes NO se tienen que conectar en horarios específicos. Realizan las actividades en tiempos que sus agendas permiten:
Ven una presentación en video facilitada por el experto (video pregrabado y hecho exclusivamente para cada curso)
Revisan materiales electrónicos y ligas compartidas por el experto
Interactuan con el experto y con otros participantes por medio de los foros de discusión cada día
Costo por el curso (incluye 15-20 participantes de la misma institución):
En México: 35,000 pesos + IVA
Fuera de México: 2,200 USD
Para apartar un curso la institución debe haber pagado el 50% o el total del costo del curso mínimo con 3 semanas antes de la fecha de inicio del mismo. Reserve un curso para su institución ahora contactando a Carlos Huerta en el correo carlos@usmexfusion.org
Instituciones Miembros de AMPEI, FCIE, UDUAL, Partners of the Americas, CONAHEC, AUALCPI, CCID, y CCIE obtienen 10% de descuento
Experta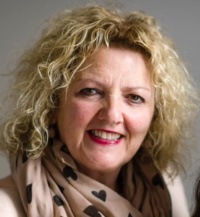 Elspeth Jones is Emerita Professor of the Internationalisation of Higher Education, Leeds Beckett University, UK and Honorary Visiting Fellow, Centre for Higher Education Internationalisation, Università Cattolica del Sacro Cuore, Milan. With over 35 years in international education, her specialisms include personal, professional and employability outcomes from international mobility, strategic leadership, internationalisation of the curriculum at home and abroad, global citizenship and intercultural competence development. Elspeth is Chair of the European Association for International Education's Expert Community on Internationalisation at Home and Visiting Professor at several European universities. She has published widely and is series editor for Internationalization in Higher Education (Routledge). She is a member of the Editorial Board of the Journal of Studies in International Education and winner of the EAIE's Tony Adams Award for Excellence in Research.
Información de Pago
Depósito o Transferencia Electrónica Nacional (México / pesos)
Banco: Scotiabank Inverlat SA
Nombre en la cuenta: USMEXFUSION AC
RFC: USM131008F33
CLABE: 044670043065730108
Número de Cuenta: 04306573010
Importante: Ya que se haya hecho el pago, favor de mandarnos un email con un escaneo o captura de pantalla de los detalles del pago a info@usmexfusion.org
Pago Seguro en Línea (sólo para pagos internacionales en US dólares)

2Checkout.com Inc. o 2CO (Ohio, USA) es un facilitador de pago electrónico seguro proveído por USMEXFUSION AC.
2CO le permite elegir su idioma y su moneda.Puede usar Tarjeta de Crédito/Débito & PayPal. No se agregan cargos por procesamiento del pago.
Antes de hacer un pago por medio de 2CO, USMEXFUSION le enviará una pre-factura con una liga electrónica de pago.
Transferencia Electrónica Internacional (pagos fuera de México son en US dólares)
Banco Beneficiario: Scotiabank Inverlat SA
SWIFT: MBC0MXMM
ABBA: 21000021
Nombre en la cuenta: USMEXFUSION AC
Número de Cuenta: 04306573010
CLABE: 044670043065730108
Dirección: Blvd. Sto. Tomás 220 Edif. G6 Lomas del Mármol
Ciudad: Puebla
Estado: Puebla
Páis: México
Código Postal: 72574
Si se requiere información de Banco Intermediario: JP Morgan Chase Bank
New York, N.Y.
SWIFT: CHASUS33
ABA 021000021
Importante: Ya que se haya hecho el pago, favor de mandarnos un email con un escaneo o captura de pantalla de los detalles del pago a info@usmexfusion.org