What is Si3? Comprehensive Internationalization System USMEXFUSION
---
Category
Si3 English
Date 2016-01-12 10:40:38 1985 Vistas
http://usmexfusion.org/en/Si3/
If you wish to turn your institution into an institution at the forefront of preparing students for a globalized world,
To train staff and students to become globally competent individuals for the benefit of your country,
To be a place of national and international mobility for staff and students,
OR to improve institutional quality, status and image, and meet the demands of the public, private and social sectors…
Si3 is an open-source Institutional comprehensive internationalization system that offers a clear path to achieving these goals.
Si3 is the result of extensive research in the field of comprehensive internationalization, pilot programs and expert support.
In Si3, we use the term "Institutional Comprehensive Internationalization" and we define it as the institutional, systematic and sustainable process of integrating an international and intercultural dimension into the ethos and the substantive functions of an educational institution, in accordance with the current international, intercultural and global environment, transcending the traditional notion of international cooperation, and physical mobility of individuals.
The "international" dimension recognizes international and global issues in foreign countries, while the "intercultural" dimension recognizes the ethnic and cultural diversity at the international, national, regional AND local levels.
Si3 has the following components:
For "Awareness and Professionalization", there are video lectures and workshops on institutional comprehensive internationalization, its benefits, how to start, and how to progress.
For "Institutional and Community Diagnostics", there are SWOT workshops, a graduate study and an employers, or business and industry, study.
For "Institutional Comprehensive Internationalization Strategic Planning", there is CCID´s Framework for Comprehensive Internationalization which is a tool to assist in the creation of an institutional Comprehensive Internationalization profile/baseline, and an Institutional Comprehensive Internationalization strategic plan.
"For Collaborative Work among Institutions", institutional collaborative cohorts can be formed that work together on specific areas of Institutional Comprehensive Internationalization.
Finally, for "Recognition", certifications should be provided to acknowledge the foreign language skills and global competencies developed in students and personnel, and there should be institutional recognition of progress in specific areas of institutional comprehensive internationalization.
If you would like to know more about how to implement Si3 at your institution, you are welcome to visit our website, usmexfusion.org, where you will have open access to the training videos and materials that support institutional comprehensive internationalization. Thank you for your attention.
Academia En Línea
Contáctenos
Español Tel. MX +52 238 200 4425
English Tel. MX +52 238 200 4425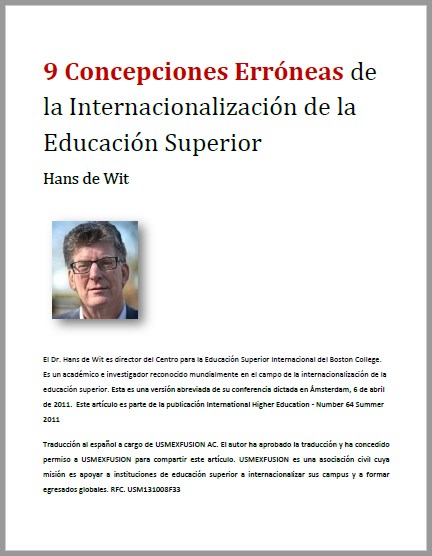 Descargue este artículo ingresando su email abajo. Recibirá otros recursos útiles.