What does Comprehensive Internationalization signify in Si3?
---
Category
Si3 English
Date 2016-01-12 10:41:27 1941 Vistas
http://usmexfusion.org/en/Si3/
Christa Olson, Madeleine Green and Barbara Hill, specialists in international education from the American Council on Education explain that "Internationalization is often used synonymously with one of its many component activities, often reflecting a specific institutional strength or priority".
For example, for some institutions or educational systems, international staff and student mobility could be an internationalization strategy, and in their discourse when referring to internationalization, they refer to these activities only.
Olson, Green and Hill acknowledge that referring to the concept of internationalization by focusing only on ONE of its components, fails to capture the multiple dimensions of internationalization and the processes needed to ensure that it penetrates the institution's activities and ethos, both broadly and deeply.
That is why we consider it important to explain how internationalization is understood in USMEXFUSION's System for Institutional Comprehensive Internationalization, Si3.
In Si3, we use the term "Institutional Comprehensive Internationalization" and we define it as the institutional, systematic and sustainable process of integrating an international and intercultural dimension into the ethos and the substantive functions of an educational institution, in accordance with the current international, intercultural and global environment, transcending the traditional notion of international cooperation, and physical mobility of individuals.
The "International" dimension recognizes international and global issues in foreign countries, while the "intercultural" dimension recognizes the ethnical and cultural diversity at the international, national, regional and local levels.
Si3´s definition of comprehensive internationalization is the result of the study of publications of various leading authors in this field of internationalization worldwide. We give credit to the following authors: Jane Knight, Jocelyne Gacel Ávila, Christa Olson, Madeleine Green, Barbara Hill, Hans de Wit, John Hudzik, y David Engberg.
If you would like to know more about how to implement Si3 at your institution, you are welcome to visit our website, usmexfusion.org, and to have open access to the training videos and materials that support institutional comprehensive internationalization. Thank you for your attention.
Academia En Línea
Contáctenos
Español Tel. MX +52 238 200 4425
English Tel. MX +52 238 200 4425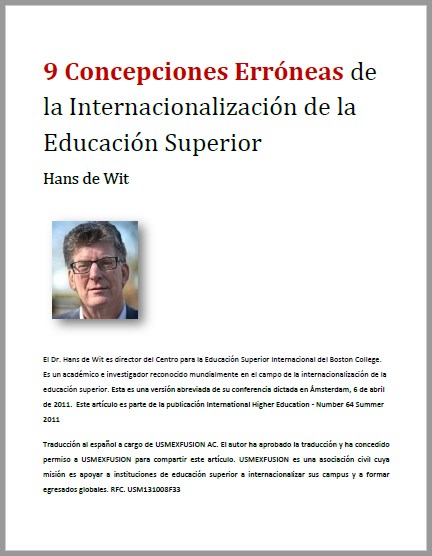 Descargue este artículo ingresando su email abajo. Recibirá otros recursos útiles.