Reasons to Internationalize - Si3 USMEXFUSION
---
Category
Si3 English
Date 2016-01-12 10:42:15 1954 Vistas
http://usmexfusion.org/en/Si3/
A globalized world poses to educational institutions the following realities and challenges:
The local and the global environment is intrinsically interconnected
Local private, social and public sectors have an increasingly international and intercultural dimension
There is a need for institutions to counteract the negative effects of globalization at the local level
To what extent does an educational institution give pertinence to its substantive functions in accordance with these realities and challenges?
To what extent does the international and intercultural dimension of the community, mirror the international and intercultural dimension of the educational institution? The degree to which this is achieved demonstrates the pertinence of the functions and activities of the institution.
Due to this reality, it is imperative to work on institutional internationalization systematically, strategically and comprehensively.
It is necessary to make internationalization and multiculturalism alive in the daily activities of campus.
Carlos Tunnermann, a specialist on Higher Education in Latin America, notes that "The internationalization of education contributes to a greater understanding among cultures and nations, while laying the foundation for what is needed most in the current state of globalization: Human solidarity and respect for cultural diversity ".
Marcelo Suarez-Orozco, Dean of the Graduate School of Education at the University of California Los Angeles, says that "Education will mediate the forces of globalization in ways that really it has never before been called to do". In this regard, we believe that international education is a means to counter the negative forces or harmful effects of globalization.
Given this reality, internationalization and interculturalism are concerns and issues relevant to the educational policies of many countries that require a higher education system to meet the needs of a globalized world, without neglecting the local;
Among the main reasons to work on comprehensive institutional internationalization are the following:
To become a site of preparation for a globalized world;
To prepare globally competent students and staff for the benefit of their communities, states, and countries;
To become a site of global student and staff mobility;
To become an international HUB of people, ideas, knowledge, and research;
To improve institutional quality;
To improve the image and status of the institution at a national and international level;
To attract international students
To meet the demands of local social, private, and public sectors;
To collaborate with other institutions, both nationally and internationally;
And to offer educational services internationally.
We'd like to close this video with a quote from Sjur Bergan, head of Council of Europe's higher education department "Higher education must educate the whole person, and in our age and time, this cannot be done without opening the horizon of each individual to the world that lies beyond our immediate neighborhood. Higher education cannot fulfill its role unless it internationalizes."
To learn more about how to implement Si3 at your institution, please visit our website, usmexfusion.org, and you will have open access to the training videos and materials that support institutional comprehensive internationalization. Thank you for your attention.
Academia En Línea
Contáctenos
Español Tel. MX +52 238 200 4425
English Tel. MX +52 238 200 4425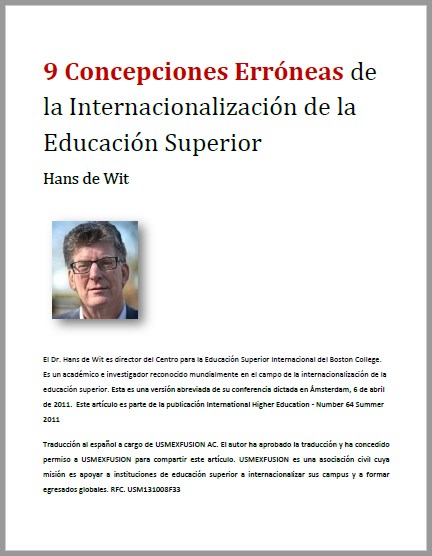 Descargue este artículo ingresando su email abajo. Recibirá otros recursos útiles.